Past monday, June 12th 2017, Fuenlabrada city hall hosted «Circular Economy in the Cities», a tech conference aimed to shed light over Circular Economy and all things related. The conference was organized by Valoriza Servicios Medioambientales, Signus and Fuenlabrada city hall, with the collaboration of Composan, Cirtec, Alfonso X University, Gómez Acebo & Pombo Abogados and Base Filt.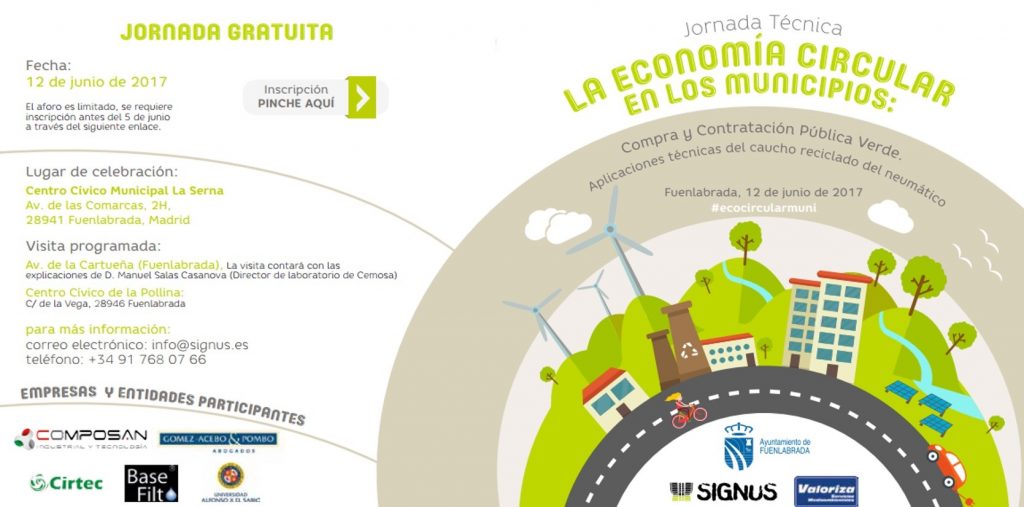 The conference revolved around Green Public Procurement and alternative uses for crumb rubber from recycled tire and was divided into two sections. First section included speaking events where experts discussed Green Public Procurement and crumb rubber applications. Afterwards, visitors had the chance to see living examples of the cases discussed during the conferences.
As a part of the conference cycle, Miguel Ángel Sanz, sales director from Chiloeches tire recycling plant and Cirtec manager, presented RARX as the most effective and efficient way to use crumb rubber as an additive for asphalt mixes. Later on, one of the examples presented to the attendees was a road section made with RARX, where they could test it firsthand.
This conference was another great opportunity to take RARX to new audiences. Reusing tires for greener pavements is the present and future of circular economy, and Silent Rubber Pave is responsible for accelerating the technology.